Fat is Contagious
By Kimberly Brittingham

I ride the public buses of New York City nearly every day, to and from work at least. Overall, experience has shown me that most riders prefer to sit rather than stand -- that is, unless they have to sit next to a fat person.
I've been on buses that filled to an inhumane capacity, with commuters packed in like desperate refugees or sows to the slaughter. Still, the seat beside me remained empty. I once watched a woman tolerate being wedged between a foul-smelling man with roaming hands and a perspiring giant with a hairy armpit an inch from her face, yet she staunchly refused to collapse comfortably into the seat available at my side. To be fair, she might've been enjoying the feel-up, but judging by her expression of disgust and the dirty looks she kept shooting at me, I think not. Why wouldn't she just sit? And what had I done to deserve the evil eye? Had I contaminated an otherwise perfectly good seat by situating my deadly girth beside it?
Some people don't even bother to be subtle. One woman attempted to sit beside me and made a big show of squirming uncomfortably before crossing the aisle in a noisy huff. She sat beside a sympathetic stranger with shaking head and rolling eyes, to whom she churlishly complained, "Some people got a lot of nerve!"
Hey, listen -- I can understand how the seat beside a large person might be viewed as less desirable than one beside a slimmer person, for reasons of bodily comfort. A tiny person might leave the seat-seeker more room to move in their own space. Oftentimes I, too, will choose to stand when I see an open seat between two people that looks like it won't comfortably accommodate my large body. I simply don't want to be squashed in the middle. What I don't understand, however, is when seats are at a premium and very few people will suck it up and sit next to me in a seat on the aisle -- that's right, an aisle seat where there's no wedged-between factor. Even I find it infinitely more comfortable to sit in an aisle seat beside another large person, with one of my ass-cheeks hanging over the side, than to stand for forty blocks and be jerked clumsily to and fro in high-heeled boots.
When it isn't adults refusing to sit beside me, it's their children, children of four and younger already imbued by the media or their parents with the unarticulated but unmistakable code that fat people are bad. Bad, dirty, poor, stupid, sick. I've watched, saddened, as children twisted and whined at their nannies' sides when it was suggested that they take a seat beside me.
Sometimes I actually get to witness the process of this unfortunate indoctrination. An as-yet untainted child approached the empty seat beside me and climbed guileless into it, grinning, all cheeks and Chiclet-teeth. Her mother snatched her away and suggested that she sit over there instead. When the little girl asked, "Why, Mommy?" her mother was dismissive and uneasy. While my hips and ass may be wide, trust me -- they've never bled so far outward that I couldn't accommodate the feathery body of a three-year-old at my side.
The way people act, you'd think fat was contagious.
Over time, I couldn't help wondering what other riders were thinking when they chose not to sit next to me on the bus. At that moment of decision -- to sit or not to sit next to the fat girl -- are their thoughts crystal clear, like typewriting across their brains? You don't want to sit next to that fat woman, because a) she might smell like bratwurst, b) her excess sweat will rub off on you and stain your good blouse, or c) it'll be a lot less comfortable than standing. Or are their thoughts more like a swirling purple vapor of vague collected precepts? Fat...bad...icky...undesirable...avoid...stand.
One afternoon I was inspired to launch an experiment; to engage in an act of performance art, of sorts. I created a fake book cover with my home computer. Some rectangles of color here, a change in font there, a borrowed bar code, some clip art of a cartoon fat woman on a shuddering scale, and voila! I'd churned out a highly convincing non-fiction book jacket. I wrapped it around a newly purchased biography, and after a little tugging and folding and fun with Scotch tape, I held the book out before me. My heart swelled at the sight of it, my cheeks grew warm. My God. It looked so real.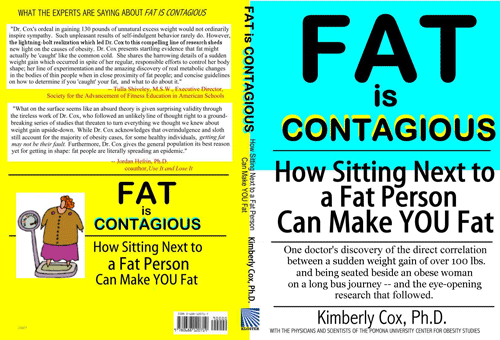 buy your own copy of Fat is Contagious!
I was about to give my fellow bus riders something to think about.
If you've ridden the buses of New York lately, perhaps you've seen me, quietly reading, FAT IS CONTAGIOUS: How Sitting Next to a Fat Person Can Make YOU Fat. The cover further reads:
"One doctor's discovery of the direct correlation between her sudden weight gain of over 100 lbs. after a long bus journey seated beside an obese woman -- and the eye-opening research that followed."
The book is authored by Kimberly Cox Ph.D., with the fictitious "Physicians and Scientists of the Pomona University Center for Obesity Studies".
The name of the author is a tribute to a nasty girl in junior high school who sent me letters after I moved out-of-state just to tell me I danced funny and that I was so fat, she was sure my mother had to buy all my jeans in the "Huskies" department at Sears.
With the creation of Fat is Contagious, I theorized that if some people could be jostled awake long enough to recognize the absurdity of a book proposing that "Sitting Next to a Fat Person Can Make YOU Fat," they might also stop and ask themselves why they really chose not to sit beside a fat person. Might it occur to them that the reason they were avoiding fat people was just as ridiculous as the premise of my book? When I created Fat is Contagious, I was fairly sure I could get people to look twice, but would I get them to think twice?


-friendly version for easy reading
©All material is copyrighted and cannot be reproduced without permission